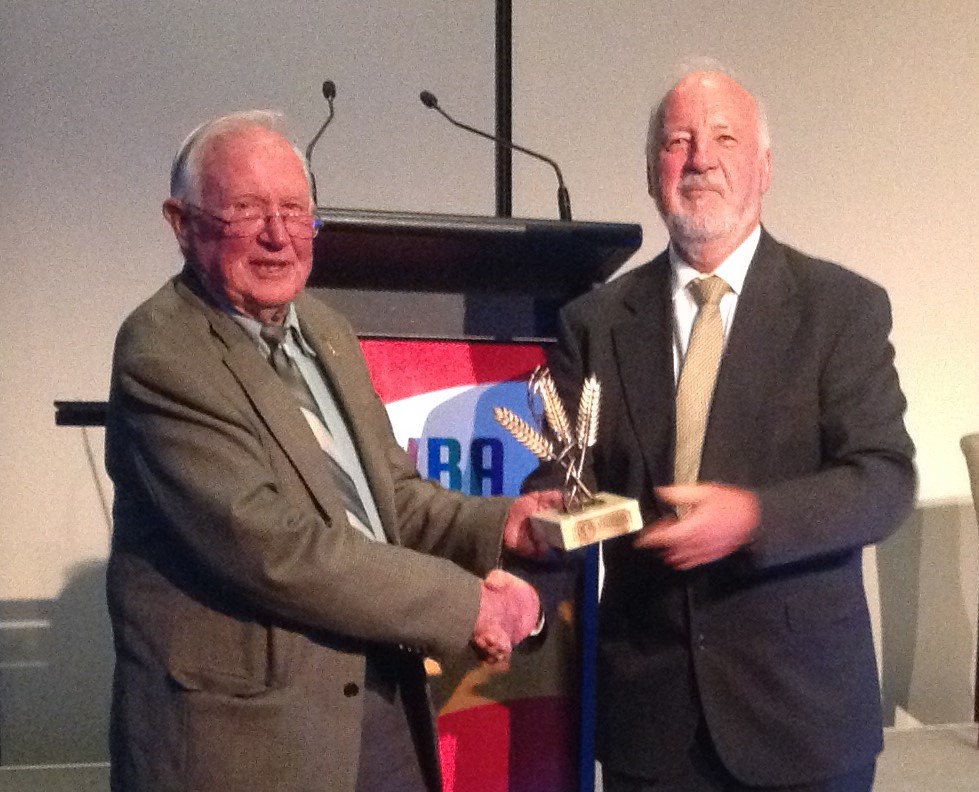 Our colleague, Robin Wilson, received the Triticum Award in Adelaide during the Wheat Breeding Assembly's conference dinner, held on 20-22 August 2019.
This award recognizes excellence in Wheat Improvement in Australia, and was presented to him by his first ever manager & mentor, retired breeder Gil Hollamby.
Robin has been a wheat breeder for nearly 40 years. He was the principal wheat breeder of 18 varieties, of which 6 became major varieties (Wyalkatchem, Bonnie Rock, Carnamah, Westonia, Arrino and Magenta), and 3 more have been significant (Camm, Eagle Rock and Emu Rock), achieving high yields in a variety of backgrounds. Wyalkatchem particularly has been used as a major parent in the development of many other successful wheat varieties. Robin was also joint breeder on 13 more varieties, of which Spear, Machete and Blade became major varieties in different parts of Australia.
Robin now works with the IBP (since 2014) as a breeding consultant, interfacing between our software developers (BMS Pro) and breeders of various crops in Africa, Asia and Australia. We are proud to share with the IBP Community our warmest congratulations to Robin for this great achievement!